About Temple Or Hadash
Temple Or Hadash was established in Fort Collins, Colorado, in late 2001 by three families who wanted to share the beauty of Reform Judaism in Larimer County and northern Colorado. Judi and Frank Deming, as well as Gerald Weiss, are still members. Our name, Or Hadash, means "new light," and was suggested by Elaine Weiss.
Early services were held in members' homes, and later at the Fort Collins Hampton Inn. As our membership grew, our services moved to the Fort Collins Senior Center. Rabbi Ted Stainman was hired on a part-time  basis, and we also started a religious school program. We acquired a Torah through the generous donation by Lester and Linda Pincus, cousins of member Patzi Goldberg, and from Temple Meir Chayim in McGehee, Arkansas. Later we hired our cantorial soloist, Natalie Fields.
We celebrated Bar and Bat Mitzvahs and other life cycle events. A Judaic library was started by Elaine and Dr. Gerald Weiss, along with Bernice Pollack. Sunday Chats were initiated, with outside speakers, clergy, and Temple members leading the dialogues. We began a program of Tikkun Olam and Mitzvah Days. We acquired a second Torah through the generosity of a temple in Calgary, Canada, and the assistance of former member Karen Schwartz. Torah Study sessions began.
We joyfully celebrated our tenth anniversary in 2011 with a wonderful dinner and concert donated by members Peter and Lynnette Jung Springberg. By 2013 our membership had increased to more than 50 family units. After Rabbi Ted Stainman's retirement, Rabbi Debra Kassof led our services for two years, followed by our Student Rabbi Ben Gurin. In July, 2015, Rabbi Hillel Katzir became our first resident Rabbi, who served the congregation until his retirement in 2018. We are delighted to have Rabbi Lynne Goldsmith serve our congregation since 2019.
What is Reform Judaism?
URJ article about Reform Judaism
Throughout history, Jews have remained firmly rooted in Jewish tradition, even as we learned much from our encounters with other cultures. Nevertheless, since its earliest days, Reform Judaism has asserted that a Judaism frozen in time is an heirloom, not a living fountain.
The positions of the Reform Movement are based primarily in two sources: Resolutions adopted by the Union for Reform Judaism, and resolutions adopted by the Central Conference of American Rabbis.
Torah from Arkansas – August, 2005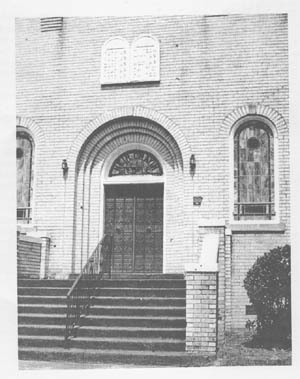 Temple Meir Chayim in McGehee, Arkansas has agreed to share one of their precious Torah with Temple Or Hadash!  The sharing of this Torah, on loan for a ten (10) year period, was arranged by Lester and Linda Pincus of Dermott, Arkansas, cousins of Patzi Goldberg.  Patzi made the trip to pick it, tying in with her trip to Memphis last month.
Please join us Friday evening, September 23rd, as Temple Or Hadash dedicates this wonderful gift!
Torah Dedication – September 23, 2005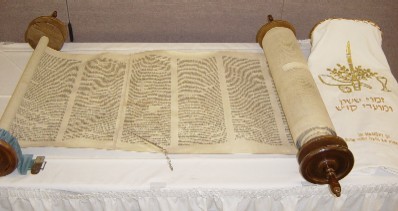 With over 75 in attendance in the ballroom turned sanctuary of the Fort Collins Senior Center on September 23, 2005, it was with great pride and excitement that Temple Or Hadash welcomed both their first Torah and their first Rabbi.
Rabbi Ted Stainman opened services with a Torah dedication ceremony he likened to a wedding, wherein the congregation weds itself to the Torah and its teachings. As part of the ceremony, members of the Temple board rolled the Torah, which had been opened for display prior to services, then passed the scroll around the room so that each person could hold the Torah themselves for a moment, after which the Torah was placed in the Ark under a chupah held by four members of the congregation.
Shabbat evening services followed the dedication, which included this week's reading from the newly acquired Torah for the first time. Although Shabbat evening services in reform congregations do not normally include reading from the Torah, this special occasion called for such a special reading. Greg Herman, President of neighbor congregation Har Shalom was honored with the one aliyah.
The "new" torah is on loan for ten years from Temple Meir Chayim in McGehee, Arkansas. The loan was arranged by Lester and Linda Pincus, cousins of board member Patzi Goldberg. Patzi made the trip to Arkansas in August to pick up the Torah personally. The Pincus' were unable to attend the dedication.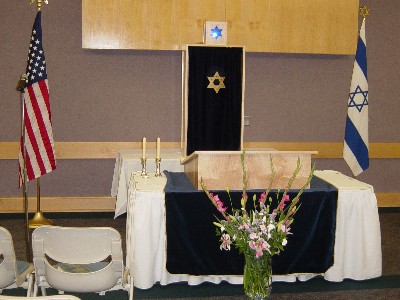 The new ark was designed and built specifically for Temple Or Hadash by member Marty Goldberg, with assistance from Patzi Goldberg, Frank and Andrew Deming and board member Michael Agruss. The Ner Tamid was designed and built by Patzi Goldberg, with assistance from Jack Hirneisen. Marty also designed and built the lectern to be used for Torah readings.The Fort Collins Coloradoan covered the event, with a feature story to be published on Saturday, October 1st.
Tashlich at Spring Creek in Fort Collins – October 4, 2005