By Rabbi Jan Katzew
At the 100th anniversary celebration held in Cincinnati, OH, WRJ leaders were hosted for dinner at the American Jewish Archives. As we each were asked to introduce ourselves, I said that I felt it appropriate to bring another person into the room, someone not physically present, but whose presence helped to make the centenary celebration possible – Jane Evans. Everyone agreed. Jane was there.
Jane Evans was my friend, and therefore, what follows is more memory than history, more of a subjective portrait than a verbal photograph. Jane was a diminutive giant. She was living proof that height and stature have no necessary relationship, for she was almost always the shortest person in the room, and yet everyone looked up to her. Jane was a renaissance woman, an award winning designer of the eponymous (especially in the latter part of her life) Silver Swan, an Emerson fan that combined elegance and efficiency, a contributor to the charter of the United Nations, and a visionary who heralded the decision to ordain women as rabbis and invest women as cantors.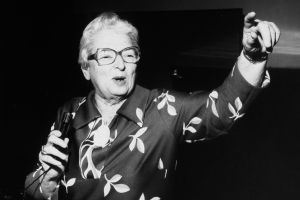 Jane Evans would not have called herself a prophet, but she did have the ability to look intently into the present and to see the future. The organizational architect of the Reform Movement in North America, Isaac Meyer Wise, founded the Union of American Hebrew Congregations (1873) as the patron of the Hebrew Union College (1875) in Cincinnati, Ohio. The growth of Reform Judaism, especially in the years of expansion and suburbanization following World War II, led to the decision to move the Union headquarters to New York City in 1951. Jane Evans was uniquely instrumental in enabling that move, not only personally leaving her home in Cincinnati for New York, but taking a primary role in raising the funds to purchase the House of Living Judaism at 838 Fifth Avenue, across the street from Temple Emanu-El of New York, founded in 1845 and widely regarded as a symbol of Reform Judaism in America.
For its first 20 years, from 1913-1933, NFTS was led by its volunteer presidents, beginning with Carrie Simon, and its primary focus was the advancement of Reform Judaism within the emerging congregational system. Its concrete actions included promoting ongei Shabbat after Friday evening services to foster the social life within each congregation and to support religious school infrastructure and holiday celebrations, thereby strengthening Jewish education for children. NFTS established itself as a champion of Jewish learning for teens and adults by developing curricula for parents and families as well as youth groups. Throughout its founding generation, NFTS accepted the challenge of providing for the future of Reform rabbis by raising the funds to give rabbinical students scholarships and to build a dormitory on the Cincinnati campus of Hebrew Union College.  World War I prompted NFTS to emphasize its role in supporting American troops throughout the world and later to support efforts to promote peace, a theme that Jane Evans would make a cornerstone of her life's work.  From its inception, NFTS assumed a pivotal role in raising the voice and the place of women in Jewish life generally and in Jewish leadership in particular. From the board room to the sanctuary, NFTS laid the foundation for women to find a home in every sphere of the Jewish community.
Jane was often the voice of NFTS in congregations throughout North America. Once she was invited to speak in Little Rock, AR, although she was surprised by a request to take the train rather than fly into Little Rock. Subsequently, she learned that whereas the congregation was very concerned about Jane's safe arrival, she was solely responsible for her mode of departure. This vignette reveals another aspect of Jane Evans' character. She could laugh heartily, at herself and with others.
Jane Evans not only intensified the efforts of NFTS within the family, congregation and community; she decided that there should be no geopolitical boundaries for Reform Jewish women to express their opinions. The NFTS biennial conventions were forums that endorsed resolutions on civil rights, birth control, child labor, immigration, the Vietnam War, the Equal Rights Amendment, as well as the Jewish people around the world, especially in the State of Israel. Jane understood her mandate to include leading Reform Jewish woman to full equality, and she navigated as the experienced skipper she was, even and especially as the waters became choppy on controversial issues. Her 'north star' was peace. In interpersonal relationships, labor negotiations, congregational leadership, the Union and the United Nations, the one constant in Jane's vision was a pellucid vision of 'shalom'. She appreciated principled conflict and respected multiple perspectives, but she was an ardent, unrelenting pacifist.
The career trajectory that Jane followed was hardly a straight line.  Her academic interests, practical training and hobbies ranged from interior design to boating and even to mathematics. Jane loved to learn and seemingly for her every day and every situation presented an opportunity for growth. Her leadership qualities, her Jewish sensibilities, and her deep commitment to giving women a voice in shaping their own destiny ultimately resulted in her becoming the inaugural Executive Director of the National Federation of Temple Sisterhoods in 1933. It would require a move from Cincinnati to New York, a move that would change the course of her life and the course of Reform Judaism, the two of which were intimately intertwined for more nearly seven decades. Her influence transcended NFTS and she grew to become among the most trusted advisers of Union presidents Rabbis Maurice Eisendrath (z''l), Alexander Schindler (z''l), and Eric Yoffie.
Jane Evans may not have been perfect, but she was most certainly a perfectionist, a gifted parliamentarian, a detail-oriented grammarian, a superb speaker, and a wonderfully committed, practicing Reform Jew. Jane was chad b'minah – one of a kind, in a class by herself.  Although she did not have a life partner or children, Jane Evans definitely had a family. The Babylonian Talmud teaches that 'when a sage dies, all of us become relatives'. Jane Evans' family extended to and through NFTS and when she died, her vast family mourned even as they celebrated her matchless achievements.
Rabbi Jan Katzew, PhD is the Director of Service-Learning at HUC-JIR Cincinnati.